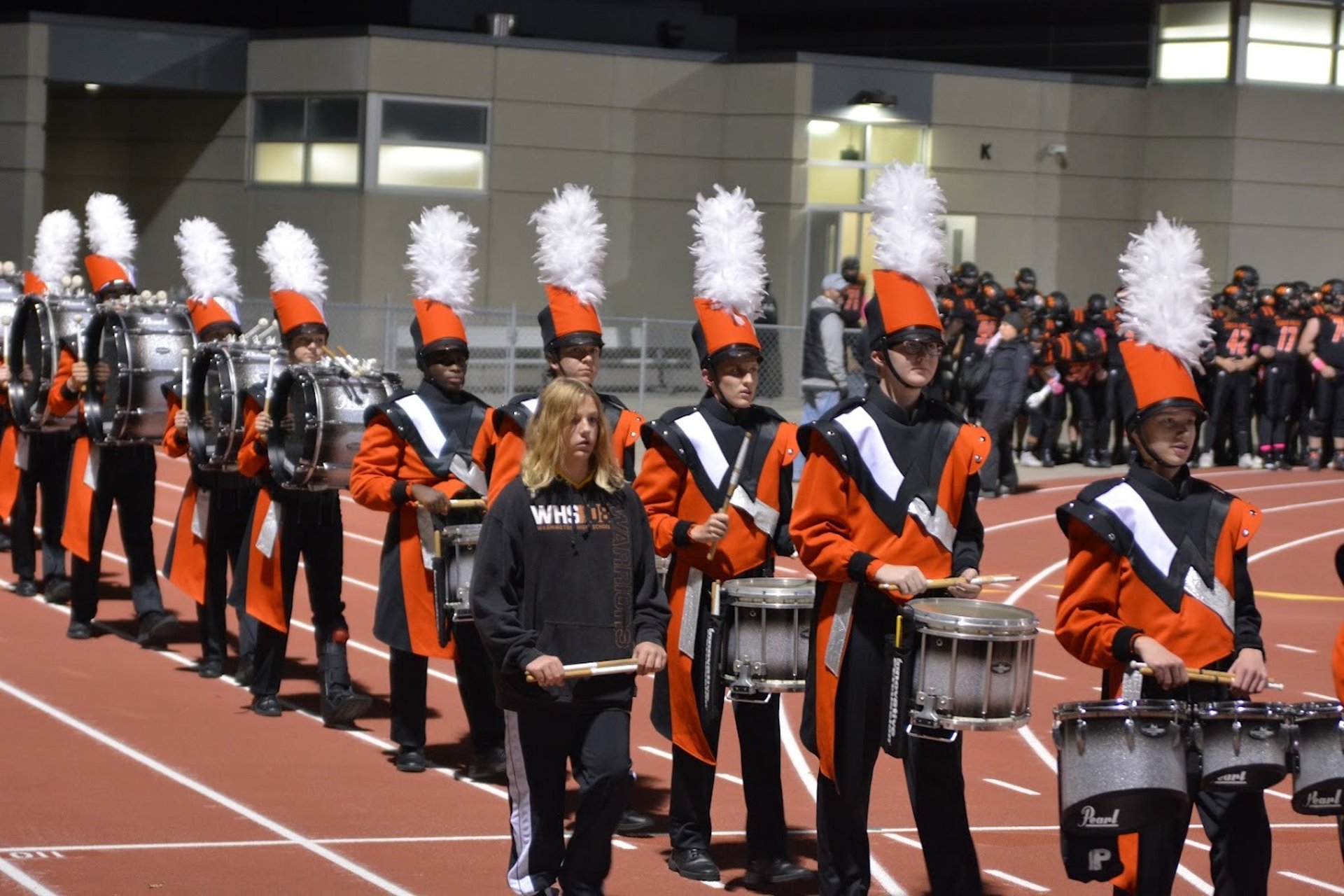 Keep scrolling to find the schedule, show trailer and the Marching Band Video Archive!
Approximately 80 students make up the Washington High School "Warrior" Marching Band from Sioux Falls, SD. We seek to produce innovative and exciting marching shows and to provide a sense of "warrior pride" for the students, families and friends at Washington. Our students work hard during the summer and into the school year to provide engaging productions for our audiences at marching band competitions and home football games.
Looking for an all-encompassing guide to marching band? We've got it! View the Parent Survival Guide below.
To access shoe order forms, health forms, itineraries and other important documents, visit our Band Shared Drive below.
We feature almost all the instruments that are in a normal concert band, including flutes, clarinets, different types of saxophones, trumpets, horns, trombones, baritones, and sousaphones (tuba).
The percussion section is comprised of two unique but related elements: the battery and the frontline. The battery percussion is made up of marching snares, tenors (sometimes called quads or multi-toms) and bass drums. The frontline includes a number of melodic percussion instruments like pianos, bass guitar, marimbas, xylophones, and vibraphones. In addition, we have non-melodic instruments like bass drum and gongs, tom-toms, cymbals, and other accessory percussion instruments.
The color guard is an important part of our visual program. This section uses different types of equipment (like flags, rifles and sabers) and performs a variety of dances. Color guard members have a large role in narrating the story of the show through artistic movement of their equipment/props, dancing, and acting.
The drum majors are the leaders of the Warrior Marching Band and are responsible for conducting the band during performances and leading the band during rehearsal. These students typically stand and may interchange between the podiums at the front of the field, and may also be seen accepting awards at competitions, leading commands, and helping the band during basics, music, and drill rehearsal.
To join the Warrior Marching Band, make sure that the commitment form is turned into the director before the due date; from there, new members can attend meetings that happen in the spring. Percussion and color guard members are required to audition for positions after registering for marching band; color guard will also have some practices during the school year. Health forms (not physicals) must be completed before students can participate in rehearsal.
The Warrior Marching Band meets weekly in July for sectionals. We then meet two-three weeks before the school year starts for the annual "band camp" where we learn spots on the field, add music, and make our show whole. During the regular season (school year) the band rehearses on Monday, Tuesday and Thursday for 2 to 2.5 hours after school. There are home football games where we play our field show or pep band tunes during halftime. Competitions take place on Saturdays, and may take several hours to a two-day overnight stay. Being part of anything successful takes planning and commitment, and we strive to always meet students "where they are." If you are interested in becoming a part of our marching band, please let your directors know!
To help defray the costs that naturally come with a performance ensemble, we ask all students to meet a fundraising target of $225. There is also a one-time $25 uniform deposit fee for first-year students to help cover potential damages. We have multiple fundraising opportunities throughout the year. In addition, you may fundraise to build up your Individual Student Account which can help to pay for the four year rotational trip that the WHS Band takes.
Check out our 2023 Marching Band Show Trailer!
2023 Performances
Saturday, September 9 - Presidents Bowl, Sioux Falls, SD
September 16 - Rosemount Marching Festival, Rosemount, MM
Saturday, September 23 - Waseca Marching Classic, Waseca, MN
Saturday, September 30 - Big Sioux Review, Brandon, SD
Saturday, October 7 - Festival of Bands, Sioux Falls, SD
Saturday, October 14 - Dutchmen Field Competition, Orange City, IA
Thursday, November 2- Indoor Show and Pancake Dinner
For marching band placements/scores, visit our social media pages.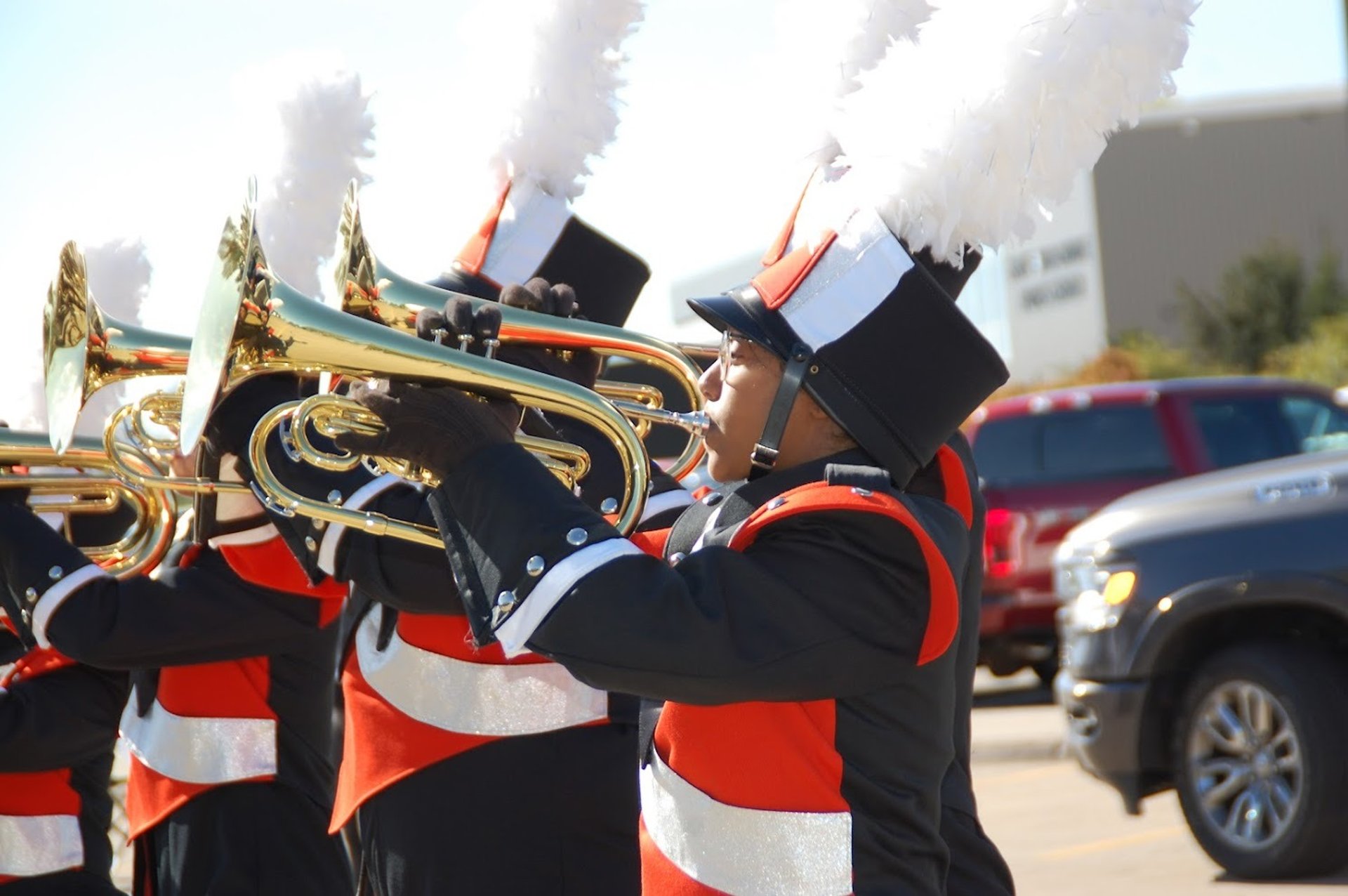 Marching Band Video Archive
We've listed our previous shows as a resource to past, present and future Warriors (and their fans)!
View our parade song, the "Battle Hymn of the Republic," below.
Enjoy watching WHS Marching Band productions over the years!