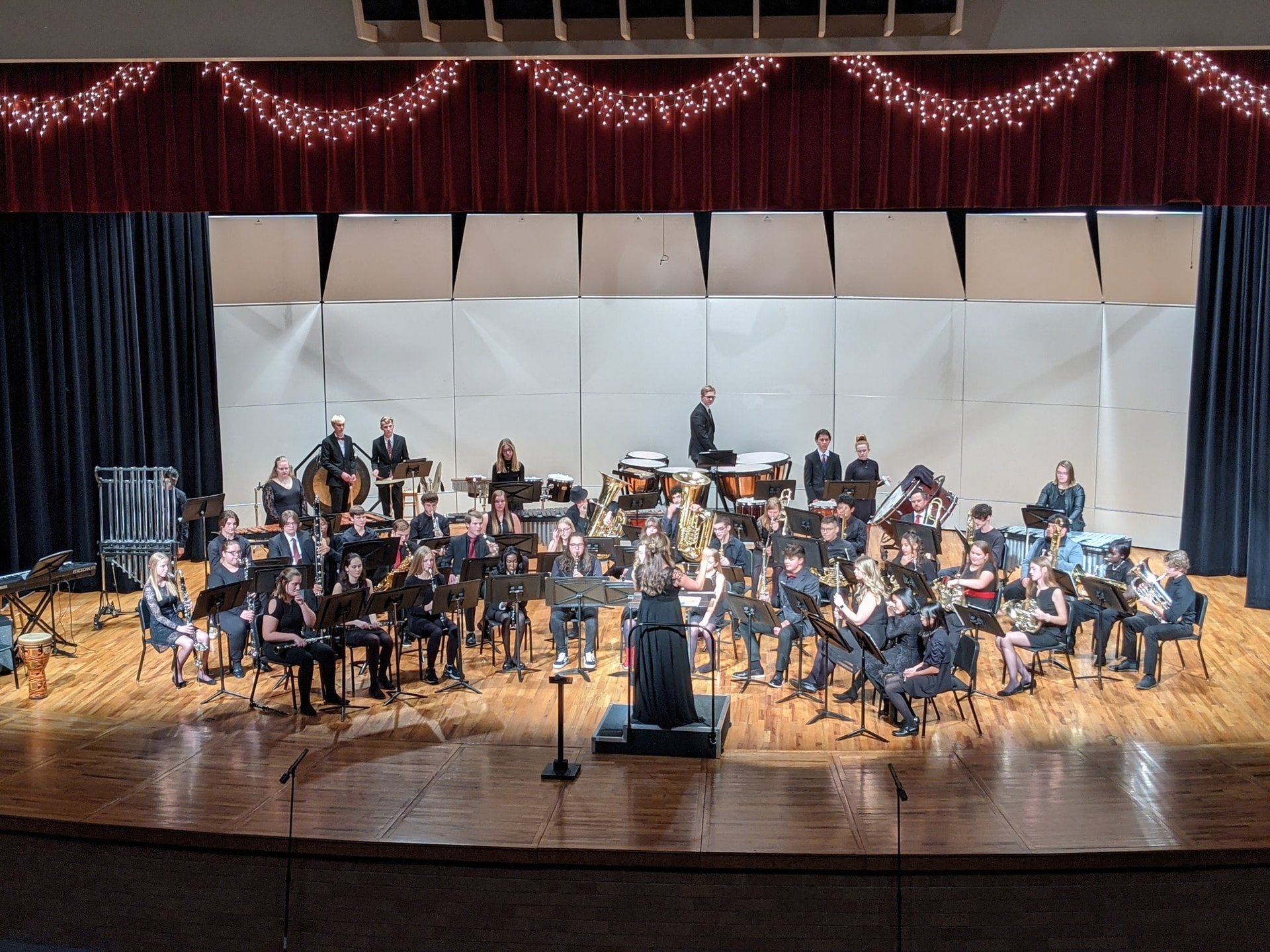 Symphonic Band plays at the highest level of our three concert bands at Sioux Falls Washington High School, and membership is by audition only. Members of this group rehearse during one of their class periods. This ensemble participates in our Incoming 8th Graders Concert (along with Jazz I), our Fall and Spring Band Concerts, Prism Concert, Showcase Concert, Large Group Contest (along with Concert Band) and plays at the WHS Graduation Ceremony. Members of this ensemble may participate in Solo/Ensemble Contest and/or All-State Band, and may also have the opportunity to accompany our Orchestra or Choir programs for their performances.
In this course, students will improve proficiency in all aspects of reading and performing instrumental music. Through the rehearsal and study of quality wind band literature, students will strengthen individual playing techniques and skills; learn about the theory, history, and vocabulary of music; demonstrate confidence and poise during public performances; and learn to work collaboratively as a member of the ensemble. This course emphasizes the importance of participation, appreciation, and support of music for life.
Members of this ensemble (who are not a member of marching band or jazz band) are expected to pay a target amount of $75 by the end of the year to help cover costs associated with the program. Several fundraising opportunities will be available throughout the year to make this goal attainable.
Important Dates: 2022-2023

Tuesday, November 15 - Symphonic Band/Jazz 1/Incoming 8th Graders Concert, 7pm at WHS

Tuesday, December 1 - Fall Band Concert, 7:00 PM at WHS

Saturday, January 28 - All State Band Auditions at Lincoln High School, Sioux Falls, SD

Tuesday, January 31- Solo/Ensemble Contest at Augustana University

Thursday, February 16 - Prism Band Concert, 7:00 PM

Wednesday, February 22 - 2023-2024 Band Placement Auditions Begin

Thursday – Saturday, Mar. 23-25 - All State Band Rehearsal (select participants) in Sioux Falls, SD (Bishop O'Gorman HS)

Saturday, March 25 - All State Band Concert (select participants) at Bishop O'Gorman HS, 4:00 PM

​Wednesday, April 19 - Large Group Contest at Brandon Valley, Brandon, SD
Thursday, April 20 - WHS Symphonic Band Showcase Concert

Thursday, May 18 - Spring Finale Band Concert/Award Ceremony 7:00 PM at WHS

Saturday/Sunday, May 27-28 - Graduation at Sioux Falls Arena (2023-2024 Symphonic Band plays)